Online shopping for men's rings in turquoise silver, with gems, onyx and simple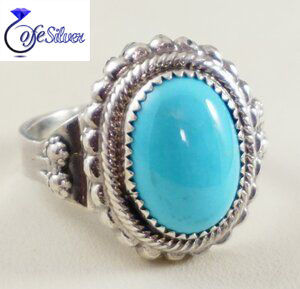 A historical look at the types of men's accessories shows that the first accessory that found a social role beyond a decorative device was the ring. From a time, the ring worn by men, the finger where the ring was placed, had meanings and concepts, and since gold rings were not liked by men in the Islamic religion, silver was replaced by metal, which at that time was only used in the hand style.
An instrument was made. The makers of handmade silver men's rings were inspired by traditional motifs or miniature paintings for the design on the ring and their legacy can still be seen in this field.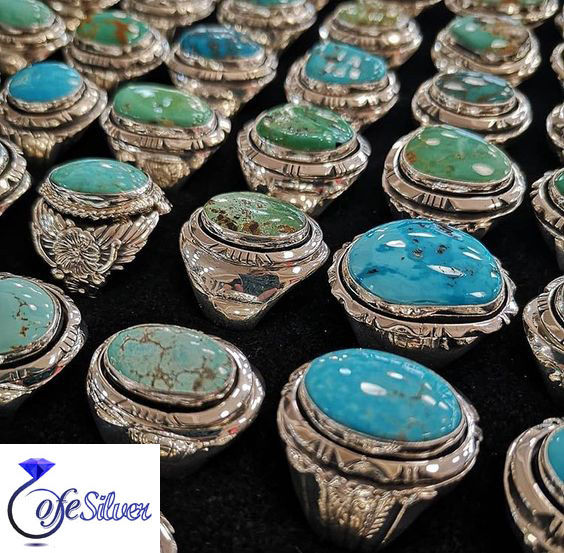 If you take a look at today's men's silver ring market, you will see many examples that are inspired by the same old and traditional examples and, like all jewelry, have a wide range of designs and roles. From the Italian men's silver ring, where elegance is the first word in its performance, to the Turkish men's silver ring, which, like other Turkish jewelry, has black ink in it.
Men's silver ring models

Two general models for men's silver rings can be listed; Ring without gem and ring with gem. In an unjeweled silver ring, only the same silver is used to create a design, but in bejeweled models, the silver becomes the base for the jewel. In common men's examples, gem is a kind of precious stone, especially in special models such as men's engagement silver ring, in which brilliant gem is used. The shape of the base stone depends to a large extent on the idea of ​​its designer and manufacturer. It can be seen in the work of designers, from simple and delicate bases to large samples with writing or images carved on them.
Stone material in men's silver ring

Many stones are used in making men's rings, each of which has different properties and there are different beliefs about them. Agate stone is one of the most widely used stones due to its variety of colors; Fire agate or brown agate, moss agate, heavy blue lace agate, etc. are all used in making men's rings. If you are looking for a men's silver ring with a black gem, you can choose it from the options of agate stone or a men's silver ring with a shajar gem, which is also a type of agate called agate and has a design similar to a tree, it will be a suitable option for you. Agate brings stability and stability and is recommended to get rid of confusion and confusion.
Turquoise men's silver ring, with its attractive blue color, is one of the most popular men's silver jewelry, and it is said that turquoise stone has both mental and physical healing properties; However, if you are looking for a cheap silver ring for men, forget about turquoise, as it is an expensive stone. On the other hand, it is the best choice for those who are looking for a special men's silver ring, because the veins inside the stone sometimes create beautiful, special and unique images. Sharaf Al-Shams agate stone also has many fans because it is believed that it is the protector of life and keeps away calamities. Other stones can be mentioned, but the most common types of stones for men's silver rings are agate and turquoise.
Men's silver ring brand

Silver rings have different manufacturers, from small jewelry making workshops to large factories of women's and men's accessories to individual manufacturers who make jewelry, they can all be men's silver ring manufacturers. We suggest to choose a brand and buy different types of silver such as men's silver bracelets, be sure to go to reputable people or stores and pay attention to the engraving of the silver carat inside the ring. The best carat currently is 925 carat.
Buy men's silver ring from CofeSilver

In this diverse market, finding a stylish men's silver ring is not as easy as it seems, because the variety of models is very high and if the purchase is done physically, you have to go from one store to another. Therefore, it is better to make this purchase in a situation where you can easily think about a model for hours and compare it with other models. For such a purchase, the silver cafe is the best choice, because various new men's silver ring models are continuously added to the previous products, and you have the opportunity to think and review while accessing the latest models. This online store offers its products with a guarantee of return and product authenticity, so that you can feel at ease about your purchase. You can easily compare the prices of Italian men's silver rings, Turkish silver rings, etc. at CofeSilver.